News & Info
IBC Tote Bin Scale allows operators to accurately gauge polymer usage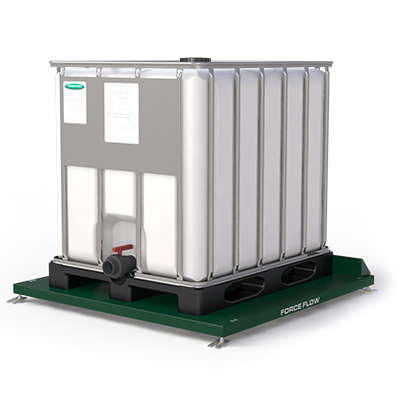 Increasingly strict federal and state reporting requremnets have created a need for water and wasewater plant operators to easily and accurately track chemical feed rates and usages. The IBC Tote Bin Scale does just that, while providing the assurance that the chemical supply won't unexpectedly run out. Accurately measuring chemical application can also be a big cost saver in the long run.
CHEMICAL DILUTION SYSTEM SAVES MONEY AND INCREASES SAFETY
Like buying orange juice and detergents, water treatment chemicals are almost always less expensive to purchase in higher concentrations. Unfortunately, feeding high strength chemicals into process water can create problems for the water treatment operator. These problems may stem from things like extremely low feed rates, chemical off-gassing, hard process water and safety or regulatory concerns in handling high strength chemicals. An innovative engineer and a determined Northwestern city set out to solve these problems with a chemical dilution system that met both their budget and design criteria.
Chemical Security Legislation update
Below is an update from the Chlorine Chemistry Council regarding the latest on CFATS reauthorization. CFATS is the chemical security legislation enacted a number of years ago to secure chemical facilties from the possibility of a terrorist attack. Chlorine gas facilities at Water treatment plants were exempted in the initial temporary law because they were covered by the Bio Terrorism Act of 2002 which required plants to secure their perimeters. To avoid duplicative regulation, the Chlorine Chemistry Council supports Republicans who are pushing for an extension of the current law that would continue to exempt chlorine gas use at water plants. - Mark Nelson May 10, 2011
Weight based level indicating devices for chemical feed systems are gaining popularity
For years, weighing systems have been widely accepted as the standard for tracking chemical use in gas chlorination systems. Today though, weighing systems are showing up in all types of chemical feed applications. The popularity of weight based monitoring devices is growing as operators recognize the unique advantages of a scale over other level measuring devices. Applications for dry or liquid feed systems can range from a 15 gallon
fluoride drum to a 200,000 lb lime silo. Continued gains in technology have allowed manufacturers to morph their products into more than just inventory control devices. New systems often provide advanced features such as chemical feed rate data and daily usage information to further help water treatment operations run more efficiently.